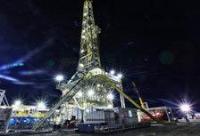 Serinus Energy Inc. has entered into an agreement for the sale of all of the 70% of the outstanding shares of KUB-Gas Holdings Limited currently owned by Serinus.
KHL in turn, owns 100% of the shares of KUB-Gas LLC. KUB-Gas (directly and indirectly through its subsidiary, KUB-Gas Borova LLC) owns 100% of and operates the six licences/permits in Ukraine which contain the Olgovskoye, Makeevskoye, Vergunskoye and Krutogorovskoye gas fields.
KUB-Gas was assigned gross 2P reserves of 64.5 Bcf and 459 Mbbl of NGL's (45.1 Bcf and 321 Mbbl SEN WI)1 at December 31, 2014. Gross production in Q3 2015 was 23.5 MMcfe/d (16.4 MMcfe/d SEN WI), of which 98% was natural gas.