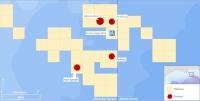 Shell has announced a new exploration discovery in the deep water US Gulf of Mexico. The initial estimated recoverable resources for the Fort Sumter well are more than 125 million barrels of oil equivalent (boe). Further appraisal drilling and planned wells in adjacent structures could considerably increase recoverable potential in the vicinity of the Fort Sumter well.
"The Fort Sumter discovery builds upon Shell's global deep-water leadership. Its proximity to our nearby discoveries in the area, and to highly prospective acreage to the southeast, makes Fort Sumter particularly significant," says Ceri Powell, Executive Vice President Exploration. "These successes demonstrate there is still running room in the producing basins of our heartlands where large, high-value discoveries have the potential to further strengthen our deep-water competitiveness."
Fort Sumter was safely drilled in the Mississippi Canyon Block 566, located approximately 117 kilometres offshore southeast of New Orleans, in a water depth of 2,152 metres to a total vertical drilling depth of 8,539 metres measured depth. The block is 23 square kilometres in size and is operated by Shell (100%). An appraisal sidetrack well was later drilled to a depth of 8,900 metres measured depth.
Shell's material discovery in this heartland builds upon recent Norphlet exploration success at the Appomattox (2010), Vicksburg (2013), and Rydberg (2014) discoveries, bringing the total resources added by exploration in the Gulf of Mexico for Shell since 2010 to around 1.3 billion boe.
Shell global deep water, which is a growth priority for the company, currently produces around 600 thousand boe per day, and production is expected to increase to about 900 thousand boe per day by the early 2020s from already discovered, established reservoirs.