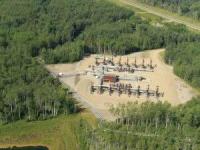 Shell is withdrawing its regulatory application for the proposed Pierre River Mine north of Fort McMurray, Alberta to focus attention on its existing oil sands operations.
'The Pierre River Mine (PRM) remains a very long term opportunity for us but it's not currently a priority,' said Lorraine Mitchelmore, Shell Canada President and Executive Vice President of Heavy Oil. 'Our current focus is on making our heavy oil business as economically and environmentally competitive as possible. We will continue to hold the leases and can reapply in the future when the time is right.'
Shell has existing regulatory approval and scope to potentially more than double its oil sands production from its current level of 255,000 bpd.
Given the preliminary nature of the Pierre River Mine project, employment impacts will be very limited.