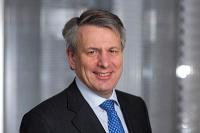 Royal Dutch Shell CEO Ben van Beurden is to speak at the opening plenary session at SPE Offshore Europe 2017 which is being held in Aberdeen from 5-8 September 2017.
Ben van Beurden will address several hundred oil and gas industry professionals who will attend the plenary session on the first day of Europe's foremost exploration and production (E&P) technical conference and exhibition.
Conference chair Catherine MacGregor, president, Reservoir Characterization Group, Schlumberger welcomed van Beurden's participation: "It will be an honour to welcome Ben van Beurden to SPE Offshore Europe. His insights, at a time of change and reinvention, and hopefully as confidence begins to return to the North Sea, will be of great interest to our delegates."
Ben van Beurden was appointed chief executive officer of Royal Dutch Shell plc in January 2014. He joined Shell in 1983, after graduating with a Master's Degree in Chemical Engineering from Delft University of Technology in the Netherlands. Ben van Beurden's career in Shell spans both upstream and downstream activities. He has held a number of operational and commercial roles, including 10 years in the LNG business, and a variety of positions in downstream.
In 2005, he became vice president, manufacturing excellence in Houston, USA, before he was appointed executive vice president, chemicals, based in London. During his tenure in the role, Mr van Beurden was appointed to the boards of a number of leading industry associations including the International Council of Chemicals Associations and the European Chemical Industry Council. From January to September 2013, he was downstream director and had regional responsibility for Europe and Turkey. He has been a member of the executive committee since January 2013.
Also speaking at the opening plenary will be BP group chief executive, Bob Dudley. Further senior level plenary speakers will be announced in due course.
Under the theme "Embracing New Realities: Reinventing our Industry", SPE Offshore Europe 2017 will offer more than 65 technical papers and 11 keynote panel sessions combined with business breakfasts and topical lunches. A 'new for 2017' Decommissioning Zone will feature a themed exhibition and conference space. Also free-to-attend, the zone will include over 40 decommissioning technology and service providers in the exhibition as well as a conference programme organised in association with key industry associations including Decom North Sea, ITF, SUT and IMechE.
SPE Offshore Europe has been held biennially in Aberdeen since 1973. It is the largest E&P conference and exhibition outside North America.
Visit www.offshore-europe.co.uk for further information.