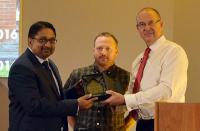 Drydocks World, the international service provider to the shipping, offshore, oil, gas and energy sectors, has been recognised at the Shell HSSE Contractor Workshop Awards 2015-2016. The award ceremony was held on October 14th, with Drydocks World winning the award of "Most Noteworthy Effort in HSSE for 2015-2016". This award recognises the Drydocks World's continuous effort to improve HSSE standards, performance and culture.
Drydocks World currently employs more than 9,000 employees from 54 different nations and it had overcome challenges to meet the objective of "ZERO HARM to people and the environment". The yard has benefited from over 33 years of past experience and strives to utilise this experience to continuously improve all activities towards "ZERO HARM".
Since the implementation of the pledge 4 years ago, significant plans have been consistently developed and successfully executed to ensure effective, transparent and comprehensive communication. This ensured awareness among people and focused supervision to guarantee compliance at all levels.