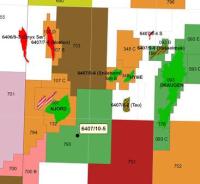 A/S Norske Shell, operator of production licence 793, is in the process of completing the drilling of wildcat well 6407/10-5.
The well has been drilled about 20 kilometres southwest of the Draugen field, less than 10 kilometres southeast of the Njord field in the southern section of the Norwegian Sea and about 100 kilometres north of Kristiansund.
The purpose of the well was to prove petroleum in reservoir rock from the Upper Jurassic (the Rogn Formation). The well was drilled 330 metres into the Rogn Formation, of which 134 metres were sandstone of moderate to good reservoir quality. The well is dry.
Data acquistion has been carried out from the well. This is the first exploration well in production licence 793 awarded in APA 2014.
The well was drilled to a vertical depth of 2850 metres below the sea surface and terminated in the Rogn Formation in Upper Jurassic.