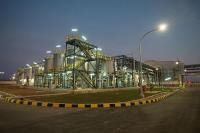 Just over one year from the start of its operations, Shell's newest lubricant oil blending plant (LOBP), located in Marunda Centre, near Jakarta, Indonesia, has more than doubled its production slate and is now producing 99 different products.
This includes its latest additions, Shell marine engine oils Shell Argina, Shell Gadinia, and Shell Melina.
Shell Argina and Shell Gadinia engine oils are used in marine propulsion engines for small to mid-size vessels, marine auxiliary engines and for stationary power generation. Shell Melina is an advanced multifunctional crankcase system lubricant for low-speed marine diesel engines.
The local production of these marine lubricants is in response to the increase in demand for marine lubricants, due to the growing domestic maritime sector in Indonesia. This came about as a result of the Indonesian government's maritime highway programme, which involves developing the country's maritime infrastructure by upgrading ports throughout the archipelago. To support this initiative, Shell Marine ensures continuity of supply by providing stock point centres located in major ports in Indonesia to serve domestic and international marine customers with the product they need, when and where they need them.
The plant has also added new variants of Shell's popular brands Shell Helix (passenger car motor oil), Shell Advance (motorcycle oil), Shell Rimula (heavy duty engine oil), Shell Spirax (transmission oil) and Shell Tellus (hydraulic oil), serving Indonesia's growing vehicle population and rapid development in key industrial sectors like construction, power generation and mining.
This plant has also enabled Shell to transition from almost exclusively importing its lubricants products from overseas to a vast majority of it being produced locally. Today, almost 70% of Shell's lubricants in Indonesia are "Made in Indonesia". These are produced out of the fully automated facility with 3 small pack filling lines, 2 drum filling lines and 1 bulk filling line. The quality of Shell's products is ensured by regular testing at the world-class test laboratory located on-site.
"We are pleased by the progress we have made in one year of manufacturing operations here in Indonesia. This local capability enables us to be close to our customers and nimbly react to market demand, including our marine lubricant customers. This plant also enables our business to expand its reach, and support our customers' needs in Eastern Indonesia, particularly in Kalimantan, Sulawesi, West Nusa Tenggara, East Nusa Tenggara, Ambon and Papua," says Alex Marpaung, Lubricants Supply Chain Operations Manager for Indonesia.
From a safety perspective, the plant is also a great example that, with the right systems and promoting a safety-conscious culture among its employees, it can achieve great safety results. From the beginning of construction in October 2012, till now, the site has achieved zero lost-time incidents (LTIs).
Shell is also a good neighbour. Shell Marunda LOBP works together with local NGO Pusdakota (Center for Urban Empowerment) of University of Surabaya to run Desa BERSEMI (Clean, Healthy and Self-sufficient village) programme in nearby villages – Segaramakmur and Pantaimakmur. The program aims to increase community awareness and initiative in building a clean, healthy, environmentally friendly and productive neighbourhood. The programme trains people in the two villages in initiating and developing projects such as: a community compost area, a "waste bank" where residents can sell their waste; a small-scale urban farm for medicinal plants and common vegetables; and small handicraft businesses using non-recyclable waste. To date, the programme has trained 60 focal points in the two villages, doubling the number from its initial phase in December 2015.