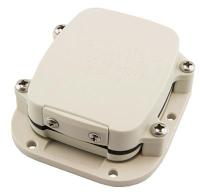 Globalstar Europe Satellite Services Ltd, a wholly owned subsidiary of Globalstar Inc., provider of satellite messaging and emergency notification technologies, has announced that global oil giant Shell has deployed a satellite-based asset management solution in the Netherlands to securely manage its movable assets on land and at sea. By more closely and efficiently managing its high value assets and their associated test certification, Shell has achieved a positive return on investment (ROI) on the solution in just three months.
The Alltrack track and trace solution, provided by Globalstar's Dutch-based Value Added Reseller Improvement-IT, incorporates QR codes, Globalstar's SmartOne™ satellite asset managers and a cloud-based content management system.
Alltrack has been integrated with Shell's internal mapping software utility to make it easy to precisely locate assets, while geo-fencing confirms that items are in the right place. The solution ensures that equipment test certificates are valid, eliminating paperwork while cutting time and costs as well as speeding up supply chain operations.
To date, Shell has deployed 250 SmartOne devices attached to a variety of high value assets including pumps, tools, power supplies and generators, which may be on land, in containers, in transit or offshore. With terrestrial mobile communications networks being incomplete, unreliable or non-existent in these locations, satellite was the only reliable communications option.
Improvement-IT chose to use Globalstar's SmartOne simplex asset manager for communications because of its reliability, long battery life and ability to switch between battery and line-powered as required. SmartOne uses motion sensors, comparative GPS positions and sensors to gather and transmit asset status information over Globalstar's satellite network.
Designed from the outset to be easy to use for non-technical staff, Alltrack requires just 15 minutes of training. There are currently approximately 100 users at Shell, with more being added.
Shell originally started by using 2D QR style codes to track down hole drilling tools for oil and gas platforms as they went into and out of its warehouses. Then, in 2015, Shell extended this facility to tracking assets being put into containers for transport or storage, and tracking them by GPS, communicating the containers' status back to headquarters using Globalstar's satellite network.
"Shell has very challenging asset management requirements as its equipment is used down wells and in environments with high pressure and temperature," says Daan te Nuijl, Managing Director at Improvement IT. "We created a specialist solution for Shell and chose the Globalstar network and technology for communications because of their reliability, security, low cost and ease of doing business with the company."
"The deployment has gone smoothly and immediately started delivering benefits to Shell by cutting the time and cost involved in finding assets and ensuring the correct certifications were in place," te Nuijl adds.
"Shell's use of Alltrack is a great example of how organisations can increase productivity dramatically by extending communications in remote locations and offshore with satellite technology. Alltrack has significantly improved the efficiency of operations at Shell and this will only increase as they use the solution to monitor more and more assets," says Corry Brennan, Simplex Regional Sales Manager – EMEA at Globalstar.