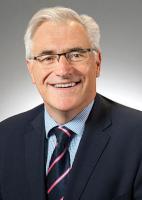 Coatings manufacturer Sherwin-Williams has scooped a major industry award for Sustainable Innovation in developing a breakthrough product for asset protection in harsh environments.
The company won the British Coatings Federation Award for its development of Dura-Plate 301W, a new product which is helping to change the face of the energy and infrastructure markets in Europe.
The Dura-Plate 301W product offers a longer painting calendar and with it increased efficiencies and reduced overall project costs.
Working with key customers, the technical team at the company's European headquarters in Bolton researched and developed the "Eureka" product which combines surface and humidity tolerance with low temperature curing.
The technology has already won plaudits from the oil and gas industry for its broad use in atmospheric service conditions in offshore, marine, industrial and infrastructure applications.
Ian Walker, managing director of Sherwin-Williams Protective and Marine Coatings Europe, Middle East and Africa (EMEA), says, "This is recognition of some great work from the team behind the scenes and how important it is to listen to customers. "Thanks go to all of our staff involved, and we're delighted that our customers have benefitted from the difference we have made to their asset protection challenges."