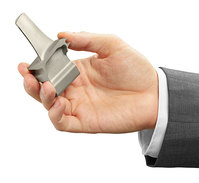 Siemens received an award from the American Society of Mechanical Engineers (ASME) for its outstanding technological achievement with the first successfully 3D-printed and fully tested gas turbine blades.
The Mechanical Engineering magazine Emerging Technology Awards is the first in the 137-year history of the Society that Mechanical Engineering magazine has singled out such future-focused technologies for recognition. The goal is to recognise some outstanding examples of what ASME calls ascending technologies: new products and processes that have left the breakthrough stage, crossed the so called commercialisation valley of death, and are poised to reshape the industries where they compete. After exclusive vetting, ASME editors selected the technologies from each of five focus areas: advanced manufacturing, automation and robotics, bioengineering, clean energy, and pressure technology.
"The 3D-printed turbine blade places Siemens at the forefront of a technology trend that is spurring a global revolution in product design and production," says Charla K. Wise, president of The American Society of Mechanical Engineers, ASME. "Mechanical Engineering magazine is pleased to present one of the five Emerging Technology Awards to a leader in manufacturing, and we thank the design team on the 3D-printed blade for advancing technology excellence."
Earlier this year, Siemens has achieved a breakthrough by finishing its first full-load engine tests for gas turbine blades completely produced using Additive Manufacturing (AM) technology. The company successfully validated multiple 3D-printed turbine blades with a conventional blade design at full engine conditions. This means the components were tested at 13,000 revolutions per minute and temperatures beyond 1,250° C. Furthermore, Siemens tested a new blade design with a completely revised and improved internal cooling geometry manufactured using the AM technology.
"We are especially proud to be honoured by such a recognised organisation as ASME," says Jenny Nilsson, who led the team that realised the blade project. "The project objective was to try out and map this radical new way of working. The outcome is another confirmation that we are on the right path toward further improvements of our gas turbine technology," Jenny continues.