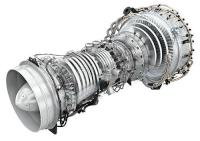 Using the combined expertise from its acquisitions of Dresser-Rand and Rolls-Royce Energy business, Siemens launches the latest evolution of its gas turbine portfolio – the SGT-A35 RB. The unit addresses the need for more cost-effective solutions for the offshore oil and gas industry by increasing the power density of the topside power generating equipment, thus reducing the required space claim. The lightweight, aeroderivative gas turbine can generate up to 38 megawatts (MW) and is integrated into a compact, lightweight Dresser-Rand package, which is up to 30 percent smaller and lighter than Industrial RB211 predecessors.
This combination produces a compelling solution for the challenging requirements of offshore applications, like floating production, storage and offloading (FPSO) vessels. FPSO vessels have become increasingly popular as oil and gas production moves towards deep-sea regions and harsher offshore environments to capture stranded reserves. With higher output and power density than comparable products, the SGT-A35 RB turbine offers several cost-effective solutions for this and other challenging offshore applications.
The SGT-A35 RB gas turbine, previously known as the Industrial RB211-GT30, is based on the proven pedigree of the Industrial RB211 and Industrial Trent 60 gas turbines, built with Rolls-Royce Aero Engine technology. This trusted legacy, evolved over 40 years of technological advancements, has more than 800 installations worldwide exceeding 37 million operating hours. The SGT-A35 RB variant introduces a lightweight free-power turbine derived from Rolls-Royce aerospace and marine Trent, as well as Siemens Industrial Trent 60. All rotating components are proven by millions of hours accumulated in flight, as well as industrial and marine service.
The SGT-A35 RB gas turbine is available in 34 and 38 MW variants to match a range of application requirements. Both ratings are available for mechanical drive and 60 Hertz or 50 Hertz electrical generation. In this configuration, the gas turbine can directly drive a 2-pole A/C generator without the need for a gearbox. The thermal efficiency of the gas turbine exceeds 40 percent at ISO conditions. The performance is ideal for hot climates and at 30 °C, the gas turbine retains more than 90 percent of its ISO power output.
The Dresser-Rand package uses fit-for-purpose packaging features and configurable options proven across oil and gas applications. Its modular design facilitates easy maintenance and reduces downtime to maximise availability and reduce clients' operating expenditures. The package has also been designed to quickly exchange the complete gas turbine and power turbine. Over the years, the Dresser-Rand business has supplied more than 1,000 aeroderivative gas turbine packages to the oil and gas industry.
"With the highest power density in this class we help offshore operators with a significant challenge," says Judy Marks, head of New Equipment Solutions for the Dresser-Rand business. "With gas turbines used as prime movers in offshore installations, project developers can simultaneously reduce capital investment and increase production capacity to achieve desired returns."