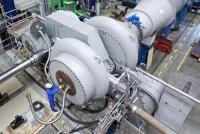 Siemens has manufactured and tested the largest geared compressor rotor in the world at its facility in Duisburg, Germany. The first-stage impeller with a diameter of 1.8 metres is the largest installed on an integrally geared compressor rotor. The STC-GV compressor rotor is part of an order placed last year by UK-based Air Products PLC. The order comprises 19 STC-GV integrally geared compressors for the air separation unit of the Jazan integrated gasification combined cycle power plant (IGCC) in Saudi Arabia. The first compressor units have been successfully tested at the Siemens Mega Test Center in Duisburg. These compressors are now on their way to the site for commissioning and erection due to start in mid-2018.
The air separation facility will supply 75,000 metric tons per day – 20,000 oxygen and 55,000 nitrogen – to a facility currently under construction in the Jazan province on the coast of the Red Sea. The air separation plant, part of what will be the world's largest industrial gas complex, will be operated by Jazan Gas Projects Company, a joint venture between the local company ACWA Holding and Air Products, an industrial gases company headquartered in the U.S. Siemens will supply seven model STC-GV main air compressors, six STC-GV booster air compressors and six model STC-GV nitrogen. The nitrogen compressor power is significantly higher than normally seen on high pressure integrally geared compressors.
"This project proves that we have the necessary capabilities to provide large air separation plants with the appropriate compression equipment," says Thomas Moenk, head of Product Development and Technology for the Dresser-Rand business, part of Siemens Power and Gas. "The STC-GV compressors with their customised design are the largest integrally geared main air compressors ever built. This is a tremendous demonstration of our technical expertise." Each of the rotors that will be assembled inside the STC-GV compressors weighs more than seven tons. This impeller was balanced in Duisburg at a speed of 3,970 revolutions per minute. At its average operating speed, the outside diameter of the first-stage impeller rotates at a speed of 1,350 km/h – faster than most jet aircraft.
"We appreciate the ingenuity the Siemens team brought to this project. We especially valued the Siemens and Air Products joint team dynamic and collaboration throughout the design, manufacturing and testing phases which resulted in a timely delivery," says David Edmondson, Vice President Global Engineering & Manufacturing and Jazan Project Director at Air Products PLC.