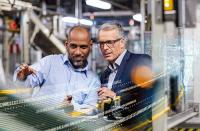 Starting October 1, 2017, the Siemens Mechanical Drives unit (MD) will be operating in the market as Flender GmbH, a Siemens Company. Branches will also take on the new name worldwide. Earlier this year, Siemens had announced that it would be running the unit as a stand-alone company under the Siemens umbrella, to expand its leeway for action and provide a sharper, business-specific focus. The new setup is to be completed worldwide by mid-2018.
"Flender is our strong brand with a tradition more than a century old, and we've always done business under the name. At this year's Hannover Messe, we highlighted Flender even more brightly, and already made quite a splash with our stand-alone fair booth for gear units and couplings. Eventually all the unit's activities worldwide will be gathered under Flender," says Stefan Tenbrock, CEO of Siemens Mechanical Drives. "It's an important step in our transformation into a stand-alone firm under Siemens AG, acting as a market leader for our customers worldwide and thinking like a mid-sized company." The business with gearboxes for wind turbines will also be part of Flender GmbH and will continue to operate under the successful Winergy brand.
The future Flender GmbH is a global provider of components for mechanical drive technology, producing at eight locations with more than 6,000 employees around the world. Its product range embraces a broad portfolio of gear units and couplings, drive applications and the associated services. The range of sectors it serves includes key industries like wind power, cement production, marine shipping, and conveyor and lifting technology. Flender products and services combine the latest technology with the highest quality standards, and have reliably been transmitting power in the best possible way for decades.
A. Friedrich Flender AG was founded in Düsseldorf in 1899, originally making wood pulleys. Siemens took over Flender in 2005 and integrated the company into its corporate group as a unit for mechanical drives. In February 2017 the company announced that it would reorganise Mechanical Drives as a stand-alone entity within Siemens, so it could implement its growth plans faster, more flexibly and more efficiently amid a challenging competitive environment.