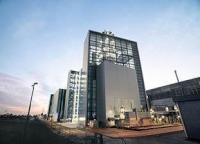 The "Fortuna" combined cycle gas turbine (CCGT) power plant at the Lausward location in the port of Düsseldorf was successfully handed over to the customer and operator, the Stadtwerke Düsseldorf public utility company, on January 22, 2016.
The power plant has broken three world records: in the acceptance test a maximum electrical net output of 603.8 megawatts (MW) was achieved and the net energy conversion efficiency was around 61.5 percent.
In addition, "Fortuna" can also deliver up to around 300 MW for the district heating system of the city of Düsseldorf – a further international peak value for a power plant equipped with only one gas and steam turbine.