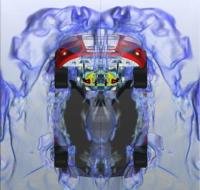 The latest release of Siemens' STAR-CCM+® software includes several new features to help product development organisations enhance and accelerate their ability to digitally simulate and understand how a product will perform in the real world using the digital twin – a precise virtual model of a product's physical and performance characteristics. New analysis tools combined with enhanced visual realism enable STAR-CCM+ version 12.02 to help engineers unlock deeper meaning behind complex engineering simulations.
Using features such as Adaptive Gridding and the ability to simulate reactions in Solid Oxide Fuel Cells (SOFC), users will be at the forefront of predictive engineering analytics which increases design efficiency, reduces costs and produces higher quality, innovative designs. Developed by Siemens' product lifecycle management (PLM) software business, STAR-CCM+ is part of the company's Simcenter™ portfolio, a robust suite of simulation software and test solutions.
"STAR-CCM+ version 12.02 is exclusively focused on making engineers more effective and enabling them to more quickly discover better designs, faster using predictive engineering technology," says Jean-Claude Ercolanelli, senior VP of Product Management at Siemens PLM Software. "These same engineers are also increasingly called upon to communicate their results across their organisations, to people who have little direct exposure to interpreting simulation results. Such a new functionality in STAR-CCM+ greatly facilitates this communication using Digital Twin simulation models that not only behave like their real-world counterparts, but also present a precise visual representation, promoting understanding and inspiring confidence."
STAR-CCM+ v12.02 introduces Ray Tracing, a capability that allows engineers to apply photo-realistic renderings to their design and simulation results, utilising similar technology that is used to provide the computer-generated imagery (CGI) special effects in movies and computer games. This enhanced visualisation capability is particularly useful when communicating the results of simulations to stakeholders outside of the core simulation community.
In addition to providing new tools for the analysis of simulation results, STAR-CCM+ v12.02 adds capabilities to accelerate simulation throughput for products that deal with reacting flows, such as furnaces, reformers, internal combustion engines and gas turbines. The new Adaptive Gridding capability for combustion tables significantly reduces computational effort without any loss of accuracy. Applicable to all flamelet combustion models, adaptive gridding can reduce table size and corresponding memory usage by up to 30 times, increasing efficiency and allowing engineers to iterate designs more quickly.
This version also includes multi-component gas/liquid species and solid ions models used to analyse electrochemical reactions, such as those that occur in Solid Oxide Fuel Cells (SOFC). SOFC are increasingly being used to generate efficient and clean electricity, and STAR-CCM+ users are now able to create a digital twin to improve further the efficiency of their Solid Oxide Fuel Cells, resulting in cleaner electricity generation cells.