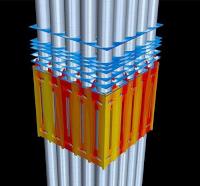 Siemens' STAR-CCM+® software, the multiphysics computational fluid dynamics (CFD) tool, has achieved ASME Nuclear Quality Assurance-1 compliance. The addition of NQA-1 compliance in the rigorous ASME QA certification program ensures the code meets industry-standard requirements for nuclear industry customers in support of safety-related applications. STAR-CCM+ is developed by Siemens' product lifecycle management (PLM) software business and is part of the company's Simcenter™ portfolio of simulation solutions.
"For years, STAR-CCM+ has been an important tool used by Sargent & Lundy to obtain engineering insights to help meet our clients' needs in the nuclear and fossil power generation industry as cost-effectively as possible," says Dan Ludovisi, Project Associate at Sargent & Lundy LLC. "The NQA-1 compliance provides further assurance that our project teams can efficiently deliver high quality services consistent with the requirements and expectations of our customers."
Due to the fact that STAR-CCM+ is considered one of the leading multiphysics analysis tools for nuclear applications, its NQA-1 compliance is a noteworthy addition for users performing analysis in this industry. Existing STAR-CCM+ customers will benefit from its NQA-1 compliant quality program for ongoing projects, while new customers can now use CFD as one of their preferred tools for nuclear-related applications.
"The addition of an NQA-1 compliance program for STAR-CCM+ builds on the code's foundation and allows for expanded usage not just for nuclear applications, but can also support other energy and power-related activities," says Jim Ryan, Industry Manager, Energy & Power at Siemens PLM Software. "We have been steadfast in our quality process, and the addition of our NQA-1 quality program is just the latest example. As we continue pursuing growth opportunities in the nuclear sector, this is expected to give current and future customers confidence they will meet their safety standards and requirements."