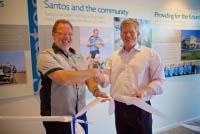 Santos has made a significant gas-condensate discovery at the Lasseter-1 exploration well in WA-274-P, located in the Browse Basin offshore Western Australia.
The Lasseter-1 well is located approximately 35 kilometres east-southeast of Santos' Crown discovery and 480 kilometres north-northeast of Broome. The water depth at location is 404 metres. The well reached a total depth of 5,329 metres measured depth relative to rotary table (MDRT).
The well intersected a gross gas condensate bearing interval of 405 metres. Wireline logging to date has confirmed 78 metres of net pay over the Jurassic-aged Lower Vulcan and Plover intervals, between 4,880 and 5,285 metres MDRT.