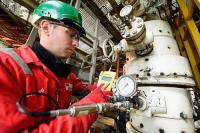 SIMMONS EDECO, supplier of wellhead and valve maintenance, asset integrity solutions and onshore drilling services to the global oil and gas industry, has announced that it has dramatically expanded and enhanced its European operations base in Great Yarmouth, England.
"This first-class facility reflects the quality of service and innovation that have become synonymous with SIMMONS EDECO during the past 55 years," says Brian Kelly, Valve and Well Services Manager for SIMMONS EDECO Europe Limited. "By combining our engineering services, service centre, operations and training functions in one central location, we are truly harnessing the full potential of our experienced workforce and field-proven technologies. And our customers around the world benefit."
To better serve its growing customer base, SIMMONS EDECO has taken a number of significant steps during recent months. The 100,000 square foot base has more than doubled in size. The new complex offers significant benefits to customers and staff. For example, the company delivers its recently launched Well Life Cycle & Well Integrity Awareness Programme to train employees and customers in valve and wellhead maintenance. Training takes place in the dedicated training facility, where delegates work with an actual pressurised training surface Christmas tree.
The expanded state-of-the-art maintenance centre and bigger warehouse also mean that SIMMONS EDECO can store, service and deploy equipment more efficiently. Space dedicated to office and administration has also been enlarged to house the 84-plus staff that support operations around the world. This translates to greater hands-on project management and rapid response, ultimately reducing costs for customers.
The expanded multi-million pound facility comes as good news to SIMMONS EDECO customers. During recent months, EDF Energy, SSE and a major operator in the Southern North Sea have awarded valve and wellhead maintenance service contracts to the company, which are being supported from Great Yarmouth.
In addition to serving as a European hub for valve, wellhead and asset integrity maintenance, the facility showcases SIMMONS EDECO systems, including single- and dual-completion training Christmas trees, and specialist treatment products, as well as asset integrity solutions, onshore drilling and workover services.