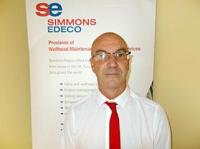 SIMMONS EDECO, supplier of wellhead and valve maintenance, asset integrity solutions and onshore drilling services to the global oil and gas industry, has announced that Mark Hunt has been promoted to the newly created position of Operations Manager for its European base of operations in Great Yarmouth, England.
In his new role, Hunt is responsible for overseeing the strategic development of operations initiatives. In view of the company's recent reorganisation that involves plans to expand globally, Hunt is reviewing existing processes with a view to standardising and strengthening operations. "By streamlining our processes, it will pave the way for setting up and operating remotely in other locations, as we do here in Great Yarmouth," says Hunt. "I look forward to implementing these new systems, and to taking an active leadership role in supporting the management of operations in new geographic regions, while maintaining the highest levels of service for our current customers."
With 31 years in the oil and gas industry, Hunt has a solid background in operations, with particular emphasis on project management and mechanical engineering. After joining the company in 2003, he worked in various roles and served most recently as Centrica Contract Supervisor for SIMMONS EDECO in Great Yarmouth. Previously, he served as a mechanical technician for seven years with Kvaerner Oil & Gas.
Originally from Oulton Broad, England, Hunt is based in Great Yarmouth where he reports to Brian Kelly, Manager of SIMMONS EDECO Europe Limited.
"We recently launched an ambitious plan to grow the business in the UK and overseas. To prepare for expansion, we reorganised our internal structure to align with our current business model, and Mark is playing an extremely important part in that transition," says Kelly. "By creating the role of Operations Manager, we have ensured that all aspects of our operations are clearly directed and measured, making it possible for us to improve continuously so that we provide world class service to our clients."