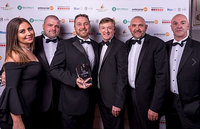 SIMMONS EDECO, supplier of wellhead and valve maintenance, asset integrity solutions and onshore drilling services to the global oil and gas industry, announced that it has received the Great International Growth Award 2017 at the 10th annual Spirit of Enterprise Awards in Great Yarmouth, England.
Organised by enterpriseGY, Great Yarmouth Borough Council's business support service, the awards aim to boost confidence in the local economy by recognising top-performing firms. SIMMONS EDECO's European division, which is based in Great Yarmouth and specialises in wellhead and valve maintenance, received the award in recognition of increased overseas sales and international expansion achieved in 2017.
While the oil and gas industry continues to struggle with on-going low oil prices, SIMMONS EDECO bucks the trend.
"In spite of the downturn, we managed to 'stay the course,' achieving increased sales and growing internationally by tracking industry shifts and opportunities, while maintaining outstanding service. By continuing to act strategically and anticipate customer needs, I'm confident that we'll continue to work and nurture relationships at home and abroad," says Brian Kelly, Valve & Well Services Manager for SIMMONS EDECO. "Receiving the prestigious Spirit of Enterprise Great International Growth Award is a great testament to our efforts. It illustrates how dedicated and team-oriented our personnel is. Teamwork is ingrained in the SIMMONS EDECO culture, and we're very proud of that."
The company is quick to point out that much of its success is attributed to challenging the status quo by making a concerted effort to recruit those who work with all valve and wellhead equipment types, whether produced by an Original Equipment Manufacturer (OEM) or independent. In an industry that traditionally sources equipment and support from an OEM, this approach is unique to SIMMONS EDECO, where staff who, for example, deliver wellhead and valve maintenance services, are experienced in working with any type of valve and wellhead equipment. As a result, the company is able to offer a much more viable alternative that offers real benefits, especially in terms of efficiency, safety and cost-savings.