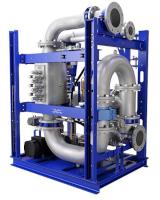 The Alfa Laval PureBallast offering continues to develop and expand. Higher flows are now possible with a plug-and-play PureBallast 3.1 Compact solution, and a broad service offering is available to support PureBallast worldwide.
"Alfa Laval PureBallast is a unique system with high flexibility and truly top-notch support," says Anders Lindmark, General Manager, Business Centre PureBallast. "Besides the outstanding performance of PureBallast 3.1, customers now have access to an even wider range of technical options and services."
Alfa Laval has extended its line of skid-mounted PureBallast systems with the new PureBallast 3.1/300 Compact. Self-contained and ready to install, the system is the market's smallest ballast water treatment solution for flows up to 300 m3/h. Yet it offers the same reliable biological disinfection performance as its larger PureBallast counterparts.
"PureBallast 3.1/300 Compact is a direct response to shipyards, who are calling for ready-to-install solutions," says Lindmark. "Minimal footprint and simplified pipework make the installation of a PureBallast Compact solution truly plug-and-play. That will be increasingly valuable as the market expands, especially when the retrofit market gains speed."
To further support the growing market, Alfa Laval has expanded and consolidated its range of services for PureBallast. The Alfa Laval 360° Service Portfolio contains a broad selection of services to secure lasting performance, ranging from Installation Supervision and Calibration to in-depth Performance Audits. For vessels whose systems have been inactive, there is even a Recommissioning service to restore performance and prevent potential damage at start-up.
For the greatest value, individual services can be combined in a customer-specific Alfa Laval Performance Agreement. Alfa Laval has put together predefined packages for annual inspection and service that simplify the process and provide even greater economy. "The packages aim to make peace of mind convenient and affordable," says Carl Kesselmark, Service Development Manager for PureBallast. "Between the two packages, customers get all the most essential PureBallast services at a very reasonable cost."
Lindmark points out that the technical and service developments are both part of a larger continuous effort. As ratification of the IMO convention edges closer, Alfa Laval is actively working to support the full range of needs that will soon become urgent. "We will continue to strengthen our PureBallast offering from every perspective," he says. "Alfa Laval customers can count on the best installation support, the best compliance solutions and the best service coverage on the market."