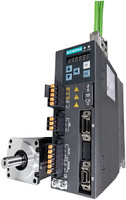 The user-friendly servo drive system Sinamics V90 from Siemens is particularly suited as a solution for highly dynamic applications. The system comes not only in the form of a high-inertia variant with 400 volts (V) for applications requiring smooth operation, but also as a 200 V version with low inertia motors where highly dynamic performance is called for.
Fitted with either Pulse Train (PTI) or Profinet, the motion/process data and diagnostic data can be transmitted in real time between Sinamics V90 and Simatic PLCs. The low inertia motor now features an additional absolute single-turn encoder with a resolution of up to 21 bits, allowing it to determine unequivocal position values and so ensure the great positioning accuracy in the applications.
The presence of the additional absolute single turn encoder eliminates the need for advance referencing, as the values are available immediately after system start. The position tracking function allows you to generate a virtual multi turn encoder value from a single-turn encode and the position value to be stored in the drive. All of this takes place in running operation. It accelerates set-up times and reduces the time required for start-up after a machine stop.
The Sinamics V90 is available in eight sizes and the SimoticsS-1FL6 in seven motor shaft heights, and covers the output range from 0.05 to 7.0 kilowatts for operation with single and three-phase supplies. Furthermore the design of the Simotics S-1FL6 high-inertia motor has been updated. The connections on the motor side are now angled, and connections on the cable side are standard connections. This makes the design of the motor more compact and the connectivity more convenient.
It is particularly suited for motion control applications such as positioning and winding.