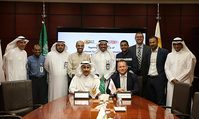 Saudi International Petrochemical Company (SIPCHEM) is collaborating with DuPont Sustainable Solutions (DSS) to accelerate progress in improving process safety management.
"SIPCHEM has embraced strong principles related to safety, and is dedicated to protecting its employees," says Ahmad A. Al-Ohali, CEO of SIPCHEM. "There is a strong desire within our leadership team to improve SIPCHEM even further by strengthening our safety culture, improving capabilities and embedding sustainable process safety systems."
Ibrahim A. Al-Rushoud, VP Operations of SIPCHEM, says, "This effort is extremely important for us. Based on DuPont's reputation and success in the Saudi Arabian market, we have selected them as the partner to support SIPCHEM on this transformational journey."
While SIPCHEM has long been committed to safety, the executive team has decided to invest further in process safety management to optimise and increase resilience of its operations.The project will facilitate this change by leveraging on DuPont's owner-operator experience and success in implementing similar Process Safety transformation programs in the region.
Johan van der Westhuyzen, Managing Director for DuPont Sustainable Solutions – Turkey, Middle East and Sub-Saharan Africa, says, "We look forward to partnering with SIPCHEM and sharing the DSS risk-based approach and learnings from similar projects in the region. We collaborated with SIPCHEM before on Maintenance and Reliability and believe this project will be a similar success story."
Jean-Paul Sacy, DSS Senior Manager leading the engagement, adds, "The positive shift companies have made from a compliance-driven to a risk-based approach has improved their safety performance when implemented down to the front-line. This can only be sustained by a pro-active involvement of leaders in driving change through greater engagement at all levels in the organisation."
DuPont Sustainable Solutions is the operations management consulting arm of DuPont and a partner of choice for key manufacturing industries throughout the Middle East.