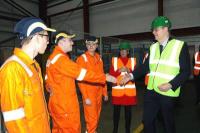 Sir Robert Smith Bt, MP has visited production technology services company Proserv to see how the firm develops the engineers of tomorrow.
At Proserv's test and assembly base at Birchmoss, near Echt in Aberdeenshire, the MP for West Aberdeenshire and Kincardine took a tour of the facilities and met with apprentices to learn more about the work Proserv is doing to bring through the next generation of talent.
The company has fast emerged as an industry specialist in the global energy industry, with over 1900 people worldwide. Across its four locations in Aberdeen and Aberdeenshire, the company took on nine apprentices into their new programme during 2013, building on the five who were hired in 2012.
Sir Robert said: "It is very encouraging to see that a major local employer is committed to providing opportunities to youngsters taking their first steps on the career ladder. The shortage of skills in the energy industry is well publicised and it is heartening to see Proserv is working to address this by providing apprenticeships which can lead into a highly skilled lifetime profession.