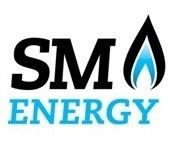 SM Energy Company says that production for the third quarter of 2014 is expected to be 13.1 MMBOE, or 142.5 MBOE/d, which is at the low end of the Company's previously issued guidance. SM Energy has moved to an enhanced completion program in its Eagle Ford producing area using higher sand loading and longer laterals.
These enhanced completions, while improving well economics, resulted in longer than anticipated downtime due to required well shut-ins for offset completions during the quarter.
Weather-related delays in the Williston Basin also negatively impacted production for the quarter. Production in both the Eagle Ford and Bakken/Three Forks has been increasing over the past few weeks and production guidance for the fourth quarter of 2014 is 13.9 - 14.7 MMBOE, which at the mid-point represents 9% growth over the third quarter of 2014. The outlook for production growth in 2015 and 2016 remains unchanged at 20% and 15%, respectively.