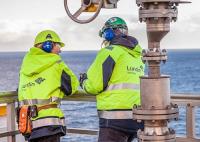 Lundin Petroleum AB has announced that Statoil AS has completed the Korpfjell exploration well 7435/12-1 in PL859 in the southeastern Barents Sea. The well proved a small, non-commercial gas discovery.
The main objective of the well was to prove oil in reservoir rocks from middle Jurassic to late Triassic age. The well encountered a gas column of 34 metres in sandstone with good reservoir quality in the main target. The Korpfjell gas discovery is estimated to contain gross resources between 40 and 75 million barrels of oil equivalent (MMboe).
Extensive data acquisition and sampling have been carried out and analysis of the well data will now commence.
This is the first exploration well to be drilled in PL859, which was awarded in the 23rd licensing round in 2016.
Alex Schneiter, CEO and President of Lundin Petroleum comments: "The southern Barents Sea remains an exciting exploration area with significant yet to find prospective resources and where the Company has established a large acreage position with prospectivity on three high impact trends. While the results of the Korpfjell well are not what we hoped for, it is the first well to be drilled in the southeastern Barents Sea and more exploration will be needed to understand the potential of this area. Further drilling is expected to take place in 2018 in PL859 to test additional prospectivity. Additionally, a well is being planned next year on the large Signalhornet prospect in PL857, located some 300 km south of Korpfjell."
"We are also drilling three further high impact exploration wells on the Loppa High and Filicudi trends in the southern Barents Sea before the end of the year, and so we remain excited about the significant exploration potential in the area," adds Schneiter.
The well was drilled using the semi-submersible drilling rig Songa Enabler to a vertical depth of 1,540 metres below the sea surface and in a water depth of 253 metres. The well will be permanently plugged and abandoned.
Lundin Norway holds a 15% working interest in PL859. Statoil is the operator with 30% and the remaining partners are Chevron with 20%, Petoro with 20% and ConocoPhillips with 15%.