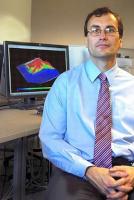 The 2017 North Sea Regional Award for Productions and Operations from the Society of Petroleum Engineers (SPE) is this year awarded to Professor Eric Mackay of Heriot-Watt University's Institute of Petroleum Engineering (IPE).
Professor Mackay was nominated for his contribution to bringing together the areas of reservoir simulation and oilfield chemistry. As a PI in the Flow Assurance and Scale Team (FAST) at Heriot-Watt he oversaw research into a range of oilfield production chemistry issues such as mineral scale deposition and its prevention.
He has been examining the detailed differences between the full chemistry of the injected, in situ and produced brines including the brine/rock geochemical interactions, applying innovative methods to Production and Operations in this technology area.
Karl Ludvig Heskestad, SPE Regional Director North Sea, says, "SPE's regional awards are designed to recognise those members who have contributed exceptional service and leadership to the society, as well as those who've made major professional contributions to their technical disciplines at the regional level."
"Professor Mackay was considered by the Awards committee as an outstanding candidate who has greatly contributed to industry's understanding and appreciation of oilfield chemistry. On behalf of SPE and the Awards Committee I would like to congratulate Mr. Mackay on his contribution in this area at the regional level," adds Heskestad.
Professor Eric Mackay, Foundation CMG Chair in Reactive Flow Simulation, says, "I am honoured to receive this award from a Society of my peers. Our research team addresses the challenge of managing production while maintaining safety and meeting our environmental responsibilities, all in the current challenging low-cost environment of North Sea oil production. It is particularly pleasing that this work should be recognised in this way."
Heriot-Watt's Chief Scientist, Professor John Underhill says, "The prestigious SPE award to Eric Mackay is well deserved and acknowledges his superb contribution to Flow Assurance and Scale in Subsurface Reservoir Systems. It is also a testament to his commitment to and role in maintaining research excellence that underpins the Institute of Petroleum Engineering's global brand."
Professor Ken Sorbie, Co-PI with Eric in the Flow Assurance and Scale Team (FAST) in IPE, who nominated Professor Mackay for the Award, says, "I am delighted that Eric Mackay's work on bringing together the fields of reservoir geochemistry, simulation and oilfield chemistry has been recognised. His research has highlighted how production problems such as mineral scale formation can be predicted and mitigated. Eric's work has been highly regarded by the specialists in his field for some years, but it is very satisfying to see that the Society of Petroleum Engineers have recognised his contribution at this higher industry-wide level."