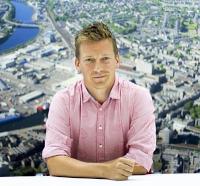 Arnlea, an established oil and gas asset management software business, has secured contracts with two operators.
Aberdeen-based Arnlea has signed an agreement with Chevron for the deployment of Intrinsix Ex, Arnlea's mobile software inspection and maintenance product used in hazardous areas, across five of the operator's North Sea assets.
Chrysaor, which acquired a package of North Sea assets from Shell earlier this year, has also committed to use the same Arnlea solution on three of its assets. This contract is for one year, with the option to extend.
Intrinsix Ex involves the use of handheld technology to provide visibility, accuracy and control of assets to assist in improving efficiency and reliability and, ultimately, extending the life of the asset. The Arnlea solution plays a central role in helping companies to comply with ATEX industry regulations and IEC 60079 standards as part of the management of hazardous areas and equipment.
Jim Steele, head of business development at Arnlea, says, "The use of our mobile technology provides a means for customers to evaluate costs and deliver efficiencies as the industry continues to review budgets. These latest contracts with operators are further endorsements of our Intrinsix Ex product. Our solution delivers in terms of compliance requirements and ease-of-use at the coalface, and in the delivery of up-to-date information for decision-makers responsible for management, inspection and asset integrity."
"There is huge scope for growth at Arnlea as companies look to digital technologies to improve operational efficiencies, collaborate and reduce costs as the industry continues to adapt to the longer-term low oil price," adds Steele.
The company also has modules of Intrinsix for inspection and maintenance outwith hazardous environments, and for materials management. The solutions use mobile auto-ID technology such as RFID, barcodes, tablets and smart phones.
Arnlea has invested more than GBP 2 million in Intrinsix in the past 3 years and this level of investment will continue. Intrinsix can operate standalone or integrated with a client's corporate systems.
Intrinsix enables the receipt, management and relocation of inventory, the visibility and traceability of equipment in logistics activities and the history and condition of an asset. This allows for more efficient and effective inventory, maintenance and inspection strategies.