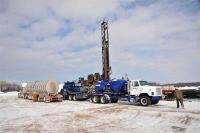 Solo Oil has been informed by the operator that recent interpretation of the recently acquired seismic data has increased the gas in place in the Ntorya-1 discovery to 1.9 trillion cubic feet (tcf), an increase of 70%.
Neil Ritson, Solo Executive Director, commented: "The upgrade in resources is a very encouraging development and Solo looks forward to an appraisal programme that will lead to this gas being produced into the newly constructed pipeline facilities connecting the Ruvuma Basin to gas markets in Dar es Salaam."
The Ntorya-1 well was tested over an initial 3.5 metre sand interval at a rate 20.1 million cubic feet per day (equivalent to 3,350 barrels of oil per day), with an estimated additional 140 barrels per day of 48 degrees API condensate. Mean unrisked contingent in place gas resources of 1.1 tcf were originally estimated and have now been upgraded to 1.9 tcf by the operator on the basis of additional seismic acquired earlier this year.