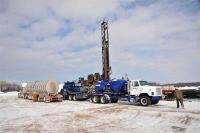 Solo says that, as a result of the analysis and integration of subsurface data from the Horse Hill-1 (HH-1) discovery well, in which Solo holds a net attributable interest of 6.5%, the calculated estimates of the discovered most likely gross oil initially in place (OIIP) within the overall Upper Portland sandstone conventional reservoir in the HH-1 and Collendean Farm-1 (CF-1) structure have increased by over 250% from the 3.1 million barrels (mmbbls) reported on 24 October 2014, to a current most likely OIIP of 8.2 mmbbls.
Similarly, calculated estimates of low case (P90) discovered OIIP has increased by nearly 400% to 5.7 mmbbls and high case (P10) OIIP volumes show a 250% increase to 12.1 mmbbls.
In addition, the results of electric log analysis in the HH-1, CF-1 and other regional wells to the south of PEDL 137 (Licence), combined with ongoing geochemical analysis of HH-1 samples, indicate that the key elements of a conventional Upper Jurassic Limestone oil play have been demonstrated to extend into the southern part of the Licence.