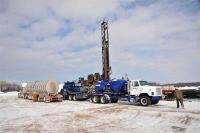 Solo notes that UK Oil and Gas plc have released a further announcement that light (40 degree API) dry oil has continued to flow naturally at a stabilised rate of over 450 barrels of oil per day from the Lower Kimmeridge limestone interval in the Horse Hill-1 well in PEDL137 during a second day of testing.
Flow testing was performed for a total of 9 ½ hours yesterday through a smaller 28/64-inch choke and the produced oil has been sent by tanker to be refined.
Solo owns a 6.5% interest in PEDL137 which is located on the north side of the UK Weald Basin close to Gatwick airport.