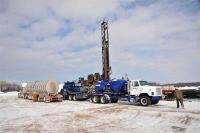 Solo has now signed the Asset Purchase Agreement with Aminex plc for the first 6.5% interest in the Kiliwani North Development Licence at a total consideration of US$3,500,000.
Further, Solo and Aminex have agreed to amend the terms of the original heads of agreement to allow Solo the option to purchase the additional 6.5% interest, on the same terms as the first 6.5% interest in the KNDL, during a period of 30 days after the Gas Sales Agreement has been approved by the Tanzanian Authorities.
Kiliwani North Development Licence, Tanzania
The KNDL contains the Kiliwani North 1 well, which Aminex and Solo expects to produce at approximately 20 million feet per day in early 2015. Once producing this will represent a major milestone, providing first revenues from Tanzania. Independently verified resources at Kiliwani North are estimated to be 45 billion cubic feet of gas-in-place.