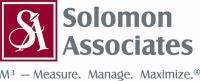 Solomon Associates, the leading performance improvement company for the global energy industry, announced that its 2014 Executive European Benchmarking Summit will take place July 8–9 at the Hyatt Regency hotel in Cologne, Germany.
The summit brings together representatives of power generation companies that account for 150,000–300,000 megawatts (MW) of fossil-fired installed capacity throughout Europe.
Offering unique insights into power asset management and optimization, the summit will provide a forum for participants to learn how competitors are using the data and insights from Solomon's Worldwide Power Generation Performance Analysis (Power Study) to measure and advance performance in competitive market situations.