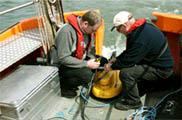 Great Yarmouth-based Sonar Equipment Services has successfully delivered its first multi-sensor ROV survey package to Calecore's marine survey division, Calesurvey.
The leading supplier of marine survey equipment to the offshore energy industry has integrated, tested and mobilised a complex array of survey and subsea equipment complete with offshore support personnel for the survey in Norwegian waters.
The pipeline route survey with environmental and geotechnical studies is being carried out using a work class ROV fitted with an extensive range of geophysical and bathymetry survey sensors and equipment supplied by Sonar Equipment Services. As part of the scope of work, an Innova Matrix MKII fibre optic multiplexer has been supplied to provide stand-alone transport of all survey data over a single fibre. The Matrix MKII is a compact, plug and play interface solution for all subsea sensors and equipment which can be fitted to any hosted platform.