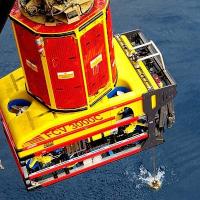 Subsea technology company Sonardyne International Ltd, Stand F300, will debut its expanded line-up of ROV and AUV navigation solutions during the upcoming Oceanology International exhibition and conference in London.
New additions to the company's Lodestar AHRS and SPRINT INS product lines mean that there is now a model to suit all underwater vehicle applications and budgets. As all versions utilise the same small, lightweight subsea housing, users can now switch capability without the need to fit different hardware - saving both vehicle payload space and operational expenditure. The company is also launching one of the smallest combined INS and DVL instruments on the market. Being manufactured in the UK, in one facility, export procedures are considerably simplified.
Saving time, lowering costs and reducing users' risk is a recurring theme of Sonardyne's participation at this year's event. The 6G family of multi-functional transponders continues to grow with the long-life Mega, ultra-small Nano and intelligent SMART all making their Oceanology debut.