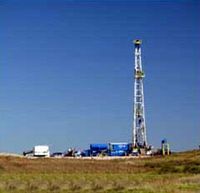 Sound Oil is pleased to announce a significant upgrade in the Net Present Value of the Badile exploration gas prospect, onshore Po Valley, Italy.
ERC Equipoise Limited ("ERC") have completed a full independent Competent Person's Report (CPR) of this prospect.
Badile is Sound Oil's 100% owned and operated exploration prospect, located some 45 km south-west of the geologically analogous "Malossa" gas field - which produced a total of 177 Bscf gas with associated light condensate.
The CPR has confirmed a Best estimate NPV10 of Euro 486 million, an increase of 60% on the previous CPR (which was Euro 302 million). The CPR has also identified a High Case NPV10 of Euro 1,745 million and a Low Case NPV10 of Euro 101 million.
Underpinning these estimates are gross prospective resources of 178bscf equivalent (106 Bscf of gas plus 12 MMbbl of condensate) with a High Case estimate of 673bscfe (397 Bscf of gas plus 46 MMbbl of condensate) and a Low Case estimate of 46bscfe (28 Bscf of gas plus 3 MMbbl of condensate). The study has also confirmed a 22% geological chance of success for the prospect.