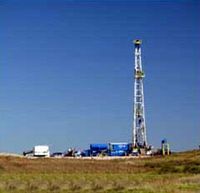 The Board of Directors has decided to retain Sound Oil's 100% operated position and the significant upside in its exciting Badile exploration prospect in Northern Italy.
As announced on 1st February, the Company received an offer to farm into the Badile prospect and, while the commercial terms of the offer remain confidential, the Company can now confirm the offer was received from an Italian Oil and Gas Major with deep knowledge of the area after conducting extensive technical due diligence. In the Board's view, however, the offer did not reflect the potential of this major asset.
Badile is a 185 Bcsf (gas case) / 23 MMbo (oil case) exploration prospect onshore in the Po Valley some 30 km southeast from the geologically analogous Villafortuna-Trecate field (estimated recoverable reserves of ~250 MMbo). The prospect has an independently assessed success case NPV10 of US$410 million (gas case) or US$266 million (oil case). The exploration well is forecast to cost some €20 million plus contingency.