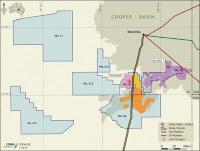 Strike Energy Limited says that leading international petroleum industry consulting firm DeGolyer and MacNaughton has independently certified contingent gas resources at the Southern Cooper Basin Gas Project in PEL 96 (Strike 66.7 percent and Operator, Energy World Corporation 33.3 percent) in South Australia.
Contingent Resource Estimate DeGolyer and MacNaughton was engaged by Strike to undertake an Independent Review of the gas resource in PEL 96 based on the data and information acquired to date by Strike from the drilling and flow testing programs carried out at the Le Chiffre 1 and Klebb 1, Klebb 2 and Klebb 3 wells.
DeGolyer and MacNaughton has estimated a contingent gas resource for the initial zones that have been flow tested within the Le Chiffre 1 and Klebb 1 wells. As these zones only represent a portion of the net coal encountered at these locations, successful flow testing of additional zones will enable an increased contingent resource to be booked.