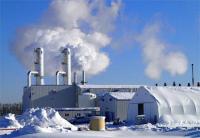 Southern Pacific Resource Corp. provided an operational update for the month of September 2013 with respect to the Company's STP-McKay and STP-Senlac thermal projects.
Total Corporate Production
Total Company production, which includes bitumen production from STP-McKay and heavy oil from STP-Senlac, averaged 5,042 bbl/d ("barrels of oil per day") for the month of September 2013, representing a 5% increase from the prior month.
STP-McKay Thermal Project
Southern Pacific continues to focus efforts on the ramp-up at STP-McKay. Average bitumen production was 2,305 bbl/d for the month of September, a 22% increase over the previous month. Operations during the month of September were steady, with no major changes to the status of the well pairs. Southern Pacific is continuing to advance and implement its operations strategy at STP-McKay. The Company is pleased with the improving performance of the well pairs in the field that are now on steady steam-assisted gravity drainage (SAGD), and has plans in place to accelerate and improve steam chamber conformance along certain pairs by applying stimulation techniques including high pressure steam stimulation (HPSS).