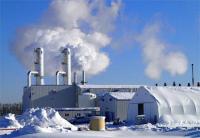 Southern Pacific Resource Corp. provided an operational update for the month of October 2013 with respect to the Company's STP-McKay and STP-Senlac thermal projects.
Total Corporate Production
Total Company production, which includes bitumen production from STP-McKay and heavy oil from STP-Senlac, averaged 4,461 bbl/d ("barrels of oil per day") for the month of October 2013.
STP-McKay Thermal Project
Average bitumen production at STP-McKay was 2,214 bbl/d for the month of October. After two months of making significant improvements on the well pairs, the Company elected for most of October to hold existing rates on most wells, and ensure sub-cool levels were being adequately maintained. This also allowed operations staff a steady state period to rebalance steam distribution and fluid withdrawal rates between the heel and toe sections of the well pairs.