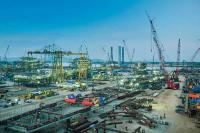 Sparrows Group is set to further grow its presence in the Asian Pacific market following the formation of a partnership between Sparrows Offshore Services Pte Ltd and SapuraKencana Technology Sdn Bhd, the latter being a wholly owned subsidiary of SapuraKencana Petroleum Berhad.
The partnership will see both entities collaborating in the provision of offshore and onshore crane services including manufacturing, supply, operations, maintenance and overhaul of offshore and onshore cranes for the oil and gas industry in Malaysia.
Sparrows Group is currently working with a number of drilling firms in Malaysia but this new alliance will see the group's activity with operators in the country grow significantly.
Stewart Mitchell, chief executive officer at Sparrows Group, says, "SapuraKencana Petroleum is a prominent and well respected company and this partnership is right in many regards for us. It brings together two companies that have a reputation for delivering quality to the energy sector and SapuraKencana's commitment to excellence is in line with our own values. Our specialist capabilities will complement SapuraKencana Petroleum's diverse range of service offerings and we are confident that their knowledge and experience will support us in further establishing our presence in the country."
Vivek Arora, Senior Vice President of Business Acquisition of SapuraKencana Petroleum says, "The collaboration with Sparrows Group will expand our range of service offerings in operations and maintenance (O&M) services. We are confident that this partnership will enable sharing of knowledge and technologies in providing high quality solutions to our clients in the oil and gas industry."