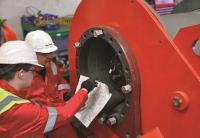 BP has awarded Sparrows Group a 3-year contract to manage crane operations and maintenance, and deck services off the coast of Angola.
The contract covers four cranes utilised on two Floating Production Offloading and Storage (FPSO) vessels, the Greater Plutonio and the PSVM, located in Blocks 18 and 31 respectively, which are situated 160 kilometres north-west of Angola's capital Luanda.
Sparrows has two bases in Angola located in Talatona and Malonga and first worked with BP in the region in 2006.
This latest scope of work, which was won as part of a competitive tender, will see Sparrows deliver crane operators, maintenance, repair and refurbishment, complete deck services, as well as control and certification of fixed and portable lifting equipment. The company will also be responsible for full project management, planning and coordination, technical support and training.
Offshore personnel will also support helicopter operations, fire-fighting duties and maintenance of the on-board safety equipment.
Stewart Mitchell, chief executive officer at Sparrows, comments, "This is a significant contract award for Sparrows as we continue to maintain and strengthen our position in the region in line with our international business strategy."
"Having successfully supported BP in Angola for a number of years, we are extremely pleased to be awarded this work for their ongoing crane management needs until 2021. Our personnel have an extensive knowledge of the assets involved and this win cements the immense confidence BP has in Sparrows and the level of high quality operations delivered previously," adds Mitchell.