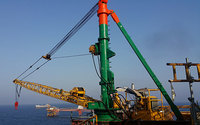 Sparrows Group has strengthened its operations in the Middle East, securing two crane contracts with Dubai Petroleum, one for maintenance services and the other for the delivery of rental cranes.
The first contract, for 5-years of crane maintenance services, covers 76 cranes across all of Dubai Petroleum's offshore fields.
Sparrows will provide maintenance and engineering support for all cranes and associated systems and deliver a maintenance strategy, with technical personnel working on-site including a dedicated crane operator instructor.
The contract has been re-awarded to Sparrows after they previously held it for 14 years until earlier this year.
The second contract, a new 3-year agreement, is for the provision of rental cranes to support Dubai Petroleum's well intervention activities. Sparrows will deliver modular temporary cranes and all associated equipment, including skidding systems.
As part of the scope, the company's specialist engineering personnel will support the commissioning, operations and decommissioning of the cranes. This includes the delivery of installation plans and post set up structural assessments, as well as preventive maintenance programmes to maximise reliability and ensure safety.
The cranes will be supplied with a variety of boom sections which will allow them to be easily modified to suit different lifting requirements across Dubai Petroleum's offshore operations.
Stewart Mitchell, Sparrows chief executive officer, says, "Sparrows has a successful history with Dubai Petroleum, having worked with the operator for a number of years. It's great to be able to get back to work on the maintenance contract and the addition of the new crane rental project is testament to our team's experience, knowledge and skills. We look forward to continuing to implement the high quality and safety standards we are recognised for across Dubai Petroleum's assets."