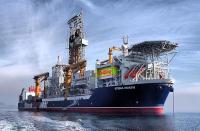 Sparrows Group has been awarded a 20-month inspection services contract to cover Stena Drilling's global fleet of drilling vessels.
The agreement will see Sparrows Group deliver LOLER lifting gear surveys, potential dropped objects surveys, cargo carrying unit (CCU) and non-destructive testing (NDT) inspections as well as rig specific maintenance.
Sparrows Group had previously held a similar contract with Stena for an 8-year period.
Stewart Mitchell, chief executive officer of Sparrows Group, says, "Over the years we have developed a strong relationship with Stena and we are delighted to now be working with them again. It is encouraging to see that they are committed to ensuring safety and integrity across their global fleet. Our experienced inspection team has a reputation for delivering quality, cost effective services to our customers. I have no doubt their professionalism and track record for reliability has contributed to us regaining this contract. In today's low oil price environment it is more important than ever to ensure inspection and maintenance is carried out effectively to avoid costly emergency repairs."
This latest contract with Stena Drilling comes shortly after Sparrows Group announced it had secured a 5-year contract in the North Sea with Statoil. In March, the firm revealed it was to deliver cranes and maintenance services at the prestigious Mariner development.