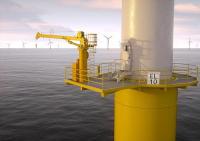 Aberdeen-based Sparrows Group has signed a contract to supply 103 cranes for installation at ScottishPower Renewables' 714 megawatt East Anglia ONE offshore wind farm.
Located off the coast of Suffolk, the wind farm will be capable of producing enough electricity to power around 500,000 homes and is anticipated to generate first power in 2019 and be fully-operational by 2020.
All the offshore wind turbine cranes will be designed and manufactured at Sparrows facilities in Aberdeen for Granada Material Handling on behalf of ScottishPower Renewables. A crane will be installed on each of the farm's 102 wind turbines with a further crane used for training purposes.
The sizeable award marks Sparrows biggest ever renewables contract to date and firmly establishes their position as an engineering and services provider in the sector. The cranes which are part of the firm's offshore wind specific WindMaster range are designed for use on offshore wind turbine platforms with 99% of their parts procured within the UK. Production is expected to start early 2017 with final delivery scheduled mid-2018.
Scotland's First Minister Nicola Sturgeon says, "Sparrows is using expertise developed in the oil and gas sector and transferring it to other energy and manufacturing sectors. Securing this major contract is a significant milestone for the company, and demonstrates the opportunities that exist for the Scottish supply chain."

"In line with the Scottish Government's draft Energy Strategy, my government will continue to support the recovery of North Sea oil and gas. We will seek to maximise the opportunities for production, exploration, and decommissioning but at the same time, encourage the industry to play a positive role in the low carbon transition," continues Sturgeon.
Stewart Mitchell, chief executive officer of Sparrows, says, "East Anglia ONE is a large scale and high-profile wind farm that will deliver substantial benefits for the UK for many years to come. This contract award is recognition of the expertise that exists in the UK and we are working hard to ensure we play our part in cementing Aberdeen and the North East as a global skills hub and providing job security for our employees."
"We have utilised our extensive knowledge of operations and maintenance to design a range of highly reliable and low maintenance offshore wind turbine cranes that are ideal for the renewables sector. Diversification into multiple sectors and industries is part of our long-term strategy in achieving our business growth aspirations nationally and internationally," adds Mitchell.
Charlie Jordan, ScottishPower Renewables' Project Director for East Anglia ONE, says, "It is positive to see that many highly-skilled jobs in Aberdeen and the West Midlands will be supported with the award of this contract. Granada and Sparrows have considerable experience in delivering cranes for the offshore environment, and we look forward to working with them."
"East Anglia ONE will deliver industry-leading levels of UK content, as well as being the best value offshore windfarm ever to go in to construction. We hope that further major contracts will be placed in the UK in the coming months, adding to the jobs and investment we are already creating in Great Yarmouth, Lowestoft, Hull, Belfast and Aberdeen," concludes Jordan.