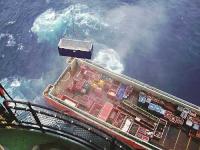 Sparrows Group has secured an initial 5-year contract to deliver cranes and maintenance services at one of the North Sea's largest and most prestigious new developments in over a decade.
The firm will supply Statoil's Mariner development on the UK Continental Shelf with crane operator personnel to support drilling, operations, maintenance and logistics, and will deliver maintenance and engineering services to ensure the availability and reliability of the Mariner A platform's two pedestal cranes.
Options to extend the contract mean it could potentially run for a total of 9 years.
Stewart Mitchell, chief executive officer at Sparrows Group, says, "As the longest-established North Sea crane engineering company, it is an honour to be involved as work begins on one of the most high profile projects the region has seen in many years. We hope Mariner has a long and successful life ahead of it."
"The platform will be subject to high levels of lifting activity with both the north and south cranes working to support the drilling operations, so our experienced operators and maintenance personnel will be integral to ensuring optimal operational performance," adds Mitchell.
Statoil has already engaged Sparrows Group's engineering team to support them with the integration of the cranes and mechanical handling equipment during the platform's construction phase which is currently ongoing in South Korea.
Mariner A will be equipped with A-frame, lattice boom cranes mounted on fixed pedestals. The two crane capacities are 50-tonne capacity at 40-metre radius and 17-tonne capacity at maximum radius of 60 m.
Full provision of training and competency services is included in the contract, along with equipment modification, upgrade and replacement components, as well as repair and maintenance of equipment onshore.