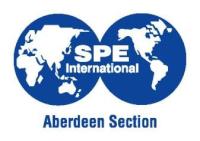 With nearly 40% of today's oil production coming from mature fields and this figure set to rise according to the Wood Report, maximising recovery is high on the agenda of oil and gas operators.
There is a significant portion of brown field operating costs related to lifting and maintenance of artificial lift equipment. Even with these additional costs, when problems arise the result can often lead to premature abandonment of fields, despite the fact that significant oil and gas reserves remain in their reservoirs.
To discuss the measures that can be taken to combat the loss of these valuable reservoirs, the Society of Petroleum Engineers (SPE) Aberdeen Section, welcomes Siegfried Müssig to next week's technical meeting. Dr. Müssig is currently technology and quality manager with RAG Rohölaufsuchungs-AG and has spent over 30 years championing the use of innovative technologies where conventional solutions have failed. In this capacity, he was appointed as board member of the Ceradyne Inc. Group and PLEcon Engineering GmbH. He is a guest lecturer at the University of Leoben, Austria and an active SPE member, as well as chairman of the German SPE section.