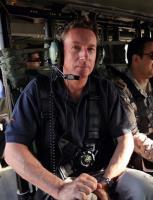 The scale and severity of attacks on industrial cyber systems is growing and has the potential to put oil and gas infrastructure, critical processes and workers' lives in danger. SPE Offshore Europe 2017 will host a keynote panel session on cyber and physical attacks on the industry to help delegates understand the risks, manage detection of threats and defend against malicious actions.
BBC security correspondent, journalist and author, Frank Gardner OBE, who survived being shot six times by Al-Qaeda terrorists in a Riyadh suburb in Saudi Arabia, will be part of the expert panel.
The session will be chaired by Deirdre Michie, chief executive of Oil & Gas UK and will involve Professor David Stupples, Director of Electronic Warfare Systems Research, University of London, who will reveal research into the cyber threat specific to the oil and gas industry. In particular, he will talk about cyber attacks on SCADA – supervisory control and data acquisition. Other keynote speakers include Dominic Armstrong, president of Herminius, a risk management and intelligence consultancy.
"The cyber threat is no longer an 'emerging' risk but one that is forcibly having a severe and hazardous impact on day-to-day operations," says Sue Frye, Director Europe, Caspian, & Sub-Saharan Africa Events for the Society of Petroleum Engineers. "Understanding and managing the risks is the responsibility of everyone in the sector, from rig workers to investors. Delegates will leave with a better understanding of the shifts in global strategic risks to oil and gas operations and the 'new realities,' threats and vulnerabilities that companies are facing."
Under the theme Embracing New Realities: Reinventing our Industry, SPE Offshore Europe 2017 will offer more than 65 free-to-attend technical presentations and 11 keynote panel sessions combined with business breakfasts and topical lunches. A "new for 2017" Decommissioning Zone will feature a themed exhibition and conference space showcasing decommissioning technology and service providers and a conference programme organised in association with Decom North Sea, IMechE, ITF and SUT.