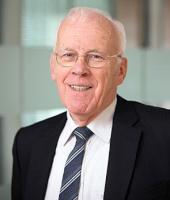 Industry doyen Sir Ian Wood has kicked-off a new campaign ahead of SPE Offshore Europe 2017 to encourage previous and future visitors, exhibitors and speakers to share their experiences of the event and what they are looking forward to seeing at September's conference and exhibition.
OE & Me is a new online hub which invites people to send their stories of SPE Offshore Europe and organisers are looking for contributions from both within and outside the oil and gas industry. Short-style video footage from phones or tablets is the recommended format to upload to the hub. Full details are available at: www.offshore-europe.co.uk/en/OE--Me
Sir Ian is a strong supporter of SPE Offshore Europe and provided the first video for the campaign. Companies such as DNV GL, ITF, OPITO and Xodus Group have also uploaded contributions. Sir Ian is renowned for his work in the international oil and gas industry with the Wood Group, serving as Chief Executive from 1967 to 2006 and as chairman until 2012. He is currently chairman of ONE (Opportunity North East) and is the author of the influential Wood Report and signatory of the City Region Deal that gave birth to the recently-formed Oil & Gas Technology Centre (of which he is the initial chairman).
Talking about his experiences of the event, he says, "I've always used SPE Offshore Europe as an occasion for a significant reappraisal where I brought the Wood Group senior team together to discuss what we've learned and what the key differences are from two years previous, in terms of the market and the competition. It is an impressive window for the industry with significant international participation, and the conference is of very high quality. It enables access to the changing home market and to an international market. Aberdeen must maintain its position as the offshore oil and gas capital of Europe and SPE Offshore Europe is a key part of that."
Vasyl Zhygalo, portfolio director, Offshore Europe Partnership added: "We want to hear personal stories and experiences from across the globe as well as close to home. We hope for a range of local insights on the event - it is an important week for Aberdeen commercially, bringing tens of thousands of industry specialists to the city from more than 100 countries."
Embracing New Realities: Reinventing our Industry is the central theme for SPE Offshore Europe 2017 which will be held at Aberdeen Exhibition and Conference Centre, Aberdeen, Scotland from 5-8 September 2017. The OE & Me campaign will run from now until the beginning of the event.
SPE Offshore Europe has been held biennially in Aberdeen since 1973. It is the largest and technically foremost offshore E&P conference and exhibition outside North America. In 2015 the event attracted over 1,500 international exhibitors and 56,000 attendees from more than 100 countries.