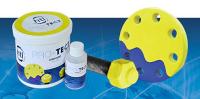 Controlled bolting equipment manufacturer HTL Worldwide Ltd has released a specialist coating to extend the life of any structure or assembly: HTL Pro-Tect.
Offering complete joint preservation and corrosion prevention, HTL Pro-Tect is suitable for any mechanical and electrical application which is subject to climatic corrosion in any industry sector. With easy application and a life span of up to 25 years, the product will protect all mechanically exposed assemblies in the harshest environmental conditions including subsea.
The high strength nature of the product comes from its silicone base which forms a strong, resilient, and rubberised coating; averting moisture, debris, and water or oxygen ingress, therefore resulting in the workpiece being kept in its "as installed" condition. Non-marine pollutant, or toxic to the environment, HTL Pro-Tect is 100% recyclable.
The external part of any mechanical joint is highly vulnerable to the ingress of debris and moisture which can result in the degradation of bolted joints as well as corrosion damage. Excessive corrosion is hazardous and repair could mean unscheduled downtime for machining, failure and potentially replacement of damaged flanges, gaskets and fasteners.
Supplied as a complete kit with everything needed for application, this product promotes best practice engineering and is a major contribution towards maintaining critical joint integrity.
Easily removed by cutting and peeling back, HTL Pro-Tect is applied and removed as desired. Complete or partial reinstation is a simple secondary application.
Paul Storey, HTL Group Managing Director comments, "An increasing demand from our client base to protect mechanical joints introduced us to the development and addition of HTL Pro-Tect to our complete portfolio of joint integrity solutions. With an unlimited amount of uses, the product is an essential inclusion for any joint preservation programme to maximise efficiency and cost savings. Additionally what has become clear is the unlimited potential for effective use of this product in any application subject to climatic corrosion."